Programs can create custom scoring algorithms that will automatically filter and weigh preferred applicant attributes.
1) Select the "Algorithms" tab, to build an algorithm.
2) Select the "Create Algorithm" located at the bottom left.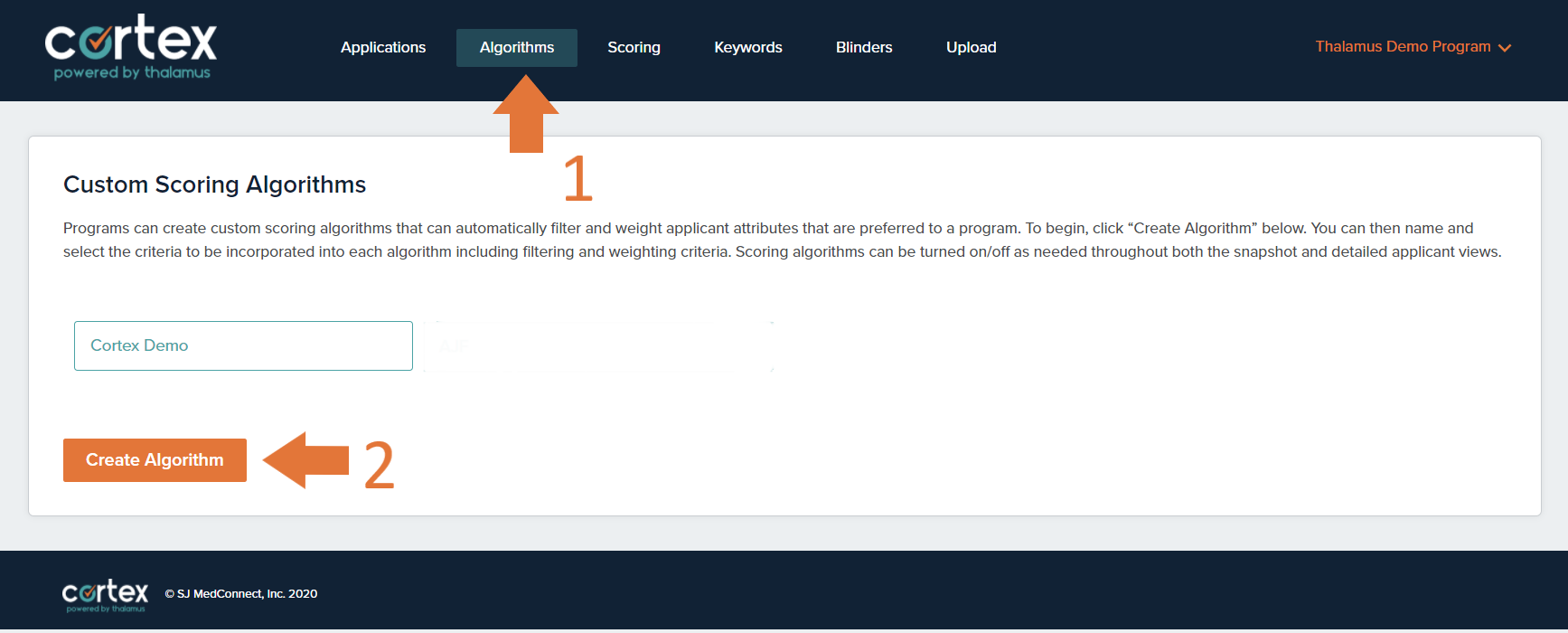 3) Name your Algorithm. e.g. "Peds Science Physician Track," "Dr. Smith's Algorithm" etc.
4) The following filter options can be configured for the algorithm creator:
USMLE Step 1 Range
USMLE Step 2 CK Range
USMLE Step 2 CS Range
USMLE Step 3 Range
COMLEX Level 1 Range
COMLEX Level 2 CE Range
COMLEX Level 2 PE Range
COMLEX Level 3 Range
Needs Visa
Participating as Couple
Alpha Omega Alpha
Gold Humanism
State Preference
Medical School Preference
Self-Identify Preference
5) Select the "Enable" box for the specific categories to be included in your filter.
6) Ranges and max failure limits may also be set.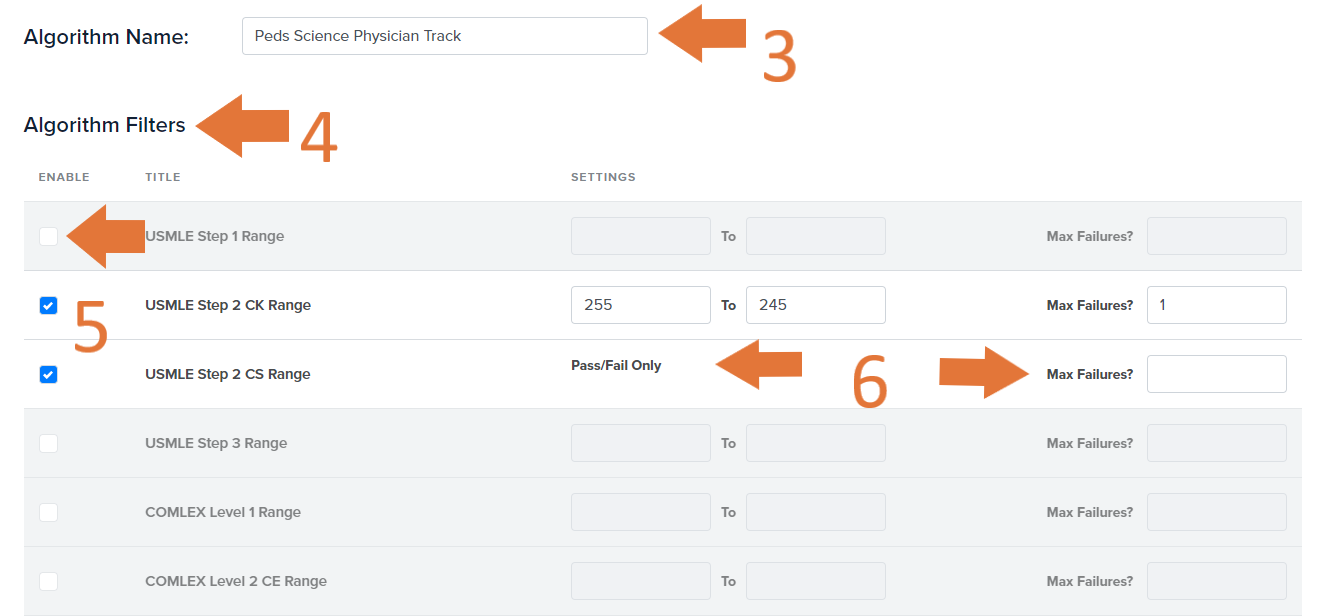 7) Once enabled, select numerical and categorical features may be weighed in the section below. Select the "Enable" button to set an importance/weight. Use the slide to adjust this value.
NOTE: Initially, the sliders will weight all categories enabled at equal weights (which add to 100%). Use the sliders to adjust these values/weights as needed.
8) Once completed, select "Save Algorithm" to finalize the algorithm. Select "Cancel" to discard your changes.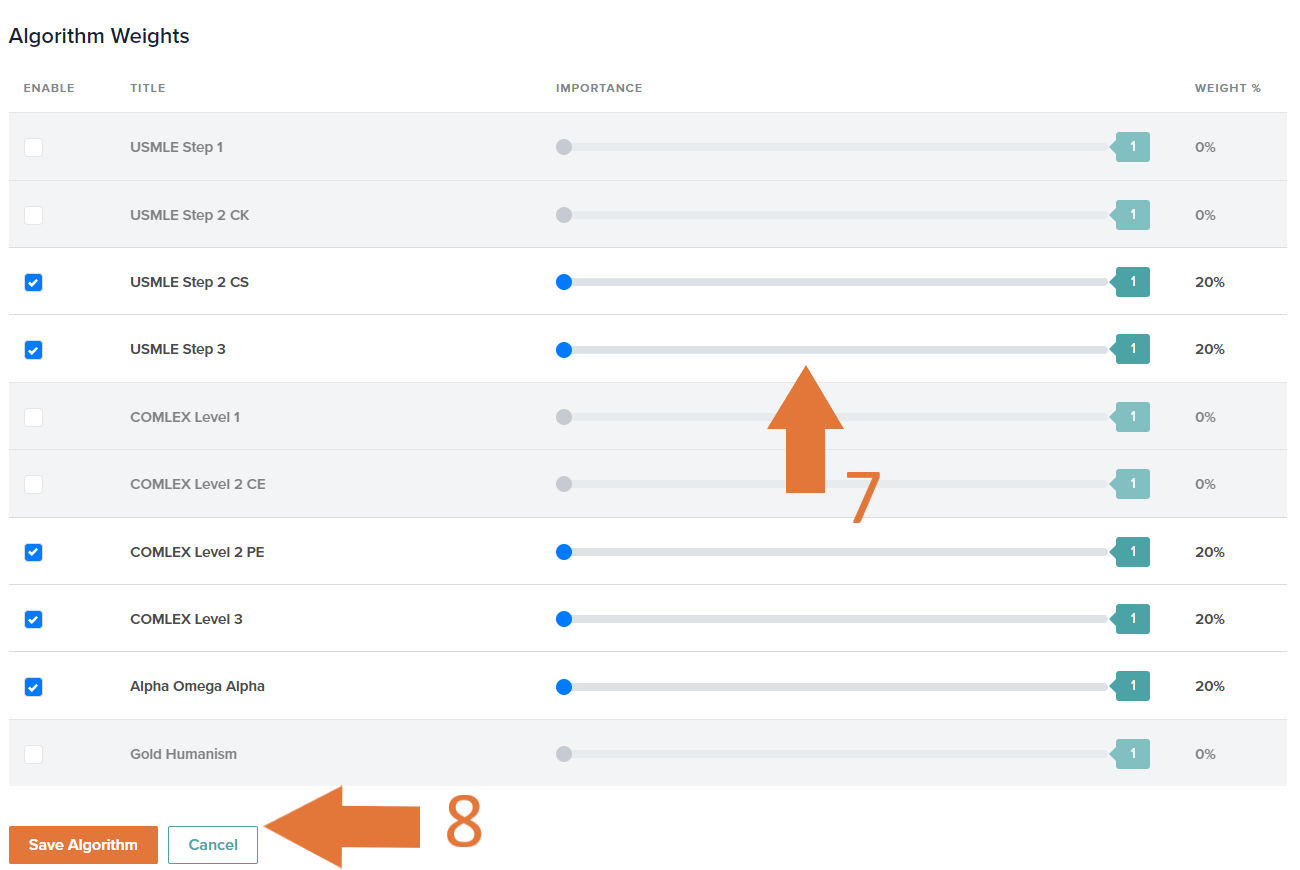 9) After the algorithm is saved you, it will be displayed on the "Algorithm" tab.
10) The algorithm may then be applied by selecting it on the "Algorithm" drop down on the "Applications" tab. Here "Peds Science Physician Track" is shown. Once applied, the algorithm will be calculated your weighted preferences will be filtered out automatically.
NOTE: When an algorithm is applied Cortex will only display applicants that match these preferences.