Programs can determine which application data should be blinded in Cortex. This is designed to promote a wholistic review of applications and minimize conscious and unconscious bias in the pipeline.

1) To create a new blinder view go to the, "Blinders" tab
2) Click the, "Create New Blinder" button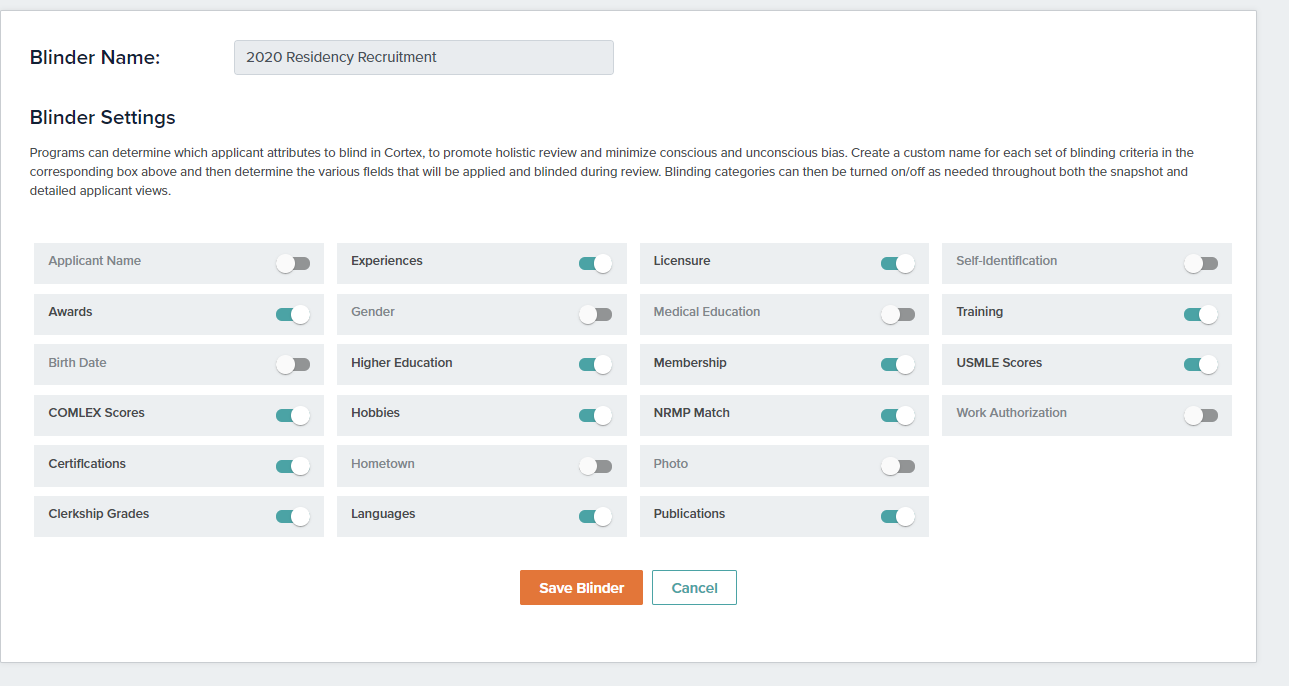 3) Name your blinder view in the text box at the top left hand side. Example here is, "2020 Residency Recruitment"
4) Choose which list of attributes you'd like to blind reviewers to and switch that information field off
Teal means that information will still be visible
Gray means that information has been blinded
NOTE: At this time, you as a user cannot create new attributes to blind. If there are suggestions you have for future blinders contact: customercare@thalamusgme.com
5) Once you have your blinders set the way you'd like them click, "Save Blinder" at the bottom of the screen.

6) Now under the, "Blinder" tab you will see your saved blinder settings
NOTE: You can create multiple blinder views. Examples include a blinder view specifically for sex, location, and so on. There is no limit to how many blinder views you can create.
7) To apply blinder views to your applicants go to the applicant page

8) On the far right hand side there is a blinders drop down menu
9) Click the view you would like to see and it will blind the list of applicants accordingly
NOTE: At this time there is no way to lock that blinded view into place. All reviewers will be able to switch to different views
Example of blinded information included below: