Programs have the option to upload applications and other documents into an applicants profile within their program.


Who can view the application I upload?
Anyone with access to the applicants page in Thalamus can view the documents uploaded. That includes users with the roles of Program Director, Program Administrator, Program Coordinator, and Program Interviewer.
Note: Users with the Program Resident or Program Fellow role will be unable to see applications
Who can view the other documents I upload?
Only users with the roles of Program Director, Program Administrator, Program Coordinator can access additional documents loaded in the documents folder.
What kind of documents can I upload?
Documents must be saved and uploaded as a PDF file.
Can I use this to upload the Application document?
Yes! You can upload the application document from your application portal. Thalamus does not connect automatically to any application services (such as ERAS or SF Match); you will need to follow the steps below to upload your individual application documents for each applicant.
How many documents can I upload?
Application Document: There can only be one Application Document loaded for each applicant. This can be the entire application or you can only include specific parts/pages of the application by deleting any pages from the PDF you don't want to include prior to uploading.
Other Documents: Programs can upload multiple documents in the other documents folder.
How to access the document upload feature:
1) Navigate to your Applicants page after logging into Thalamus.
2) On the middle right hand side of the screen, select the "gear" button and choose the option to "Change table columns"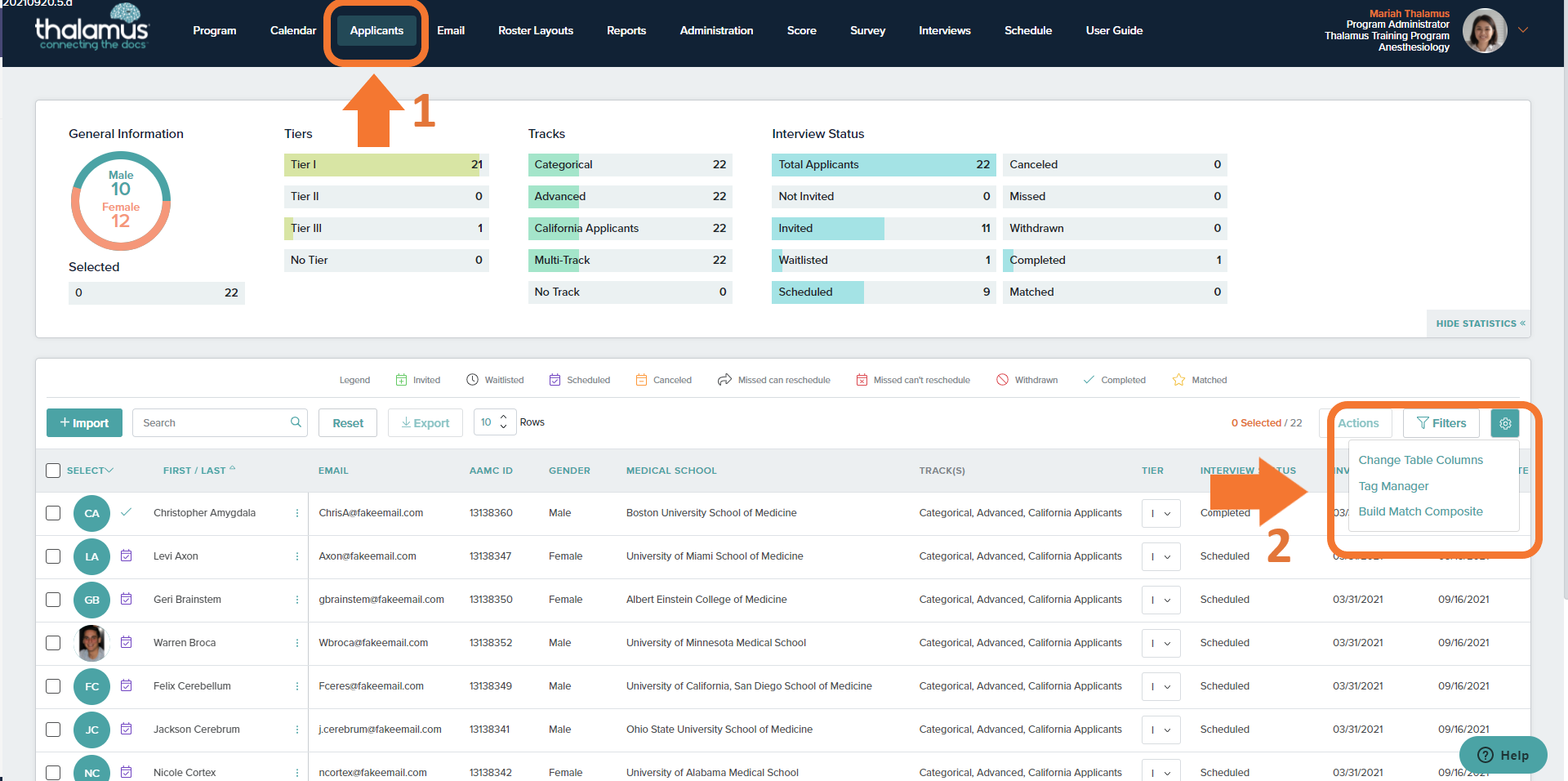 3) Search for or locate the "Documents" column, and enable this column by selecting the toggle so that it displays blue.
4) Save your changes and return to the applicants screen.



5) Locate the documents column in your applicants data grid (you may have to scroll right to locate the column based on other columns you have enabled).
6) Your documents column has 3 icons that allow you to take several actions with your documents:
Plus sign & file folder: Allows you to manage existing documents and add additional documents
Document with an "A": Allows you to access the Application document directly from this screen.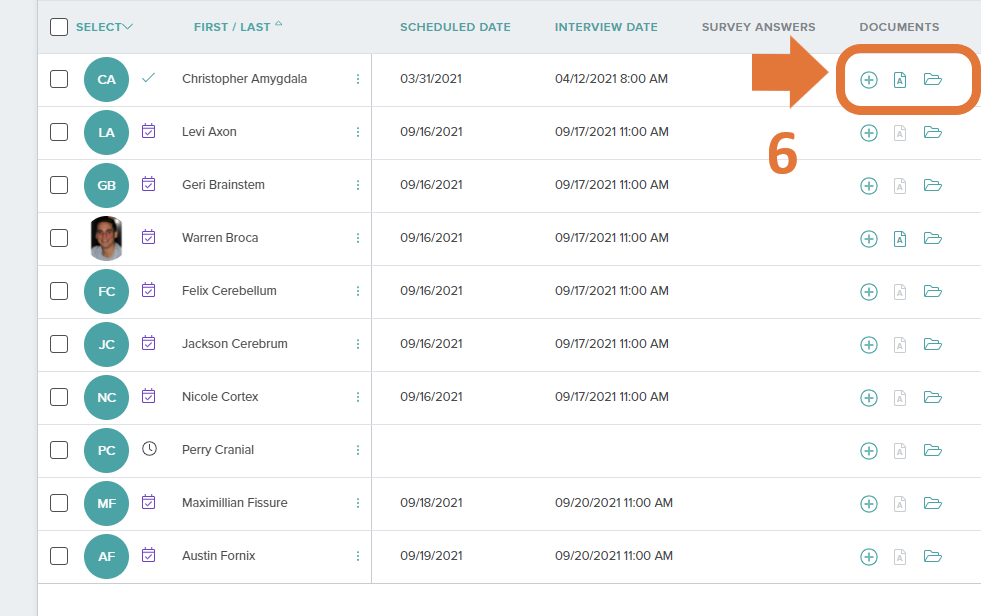 7) Select the plus sign or the file folder, and you will open a module that allows you to upload new documents or review your existing documents.
8) To upload a new document, select the "upload" button and choose the document from your computer that you'd like to upload.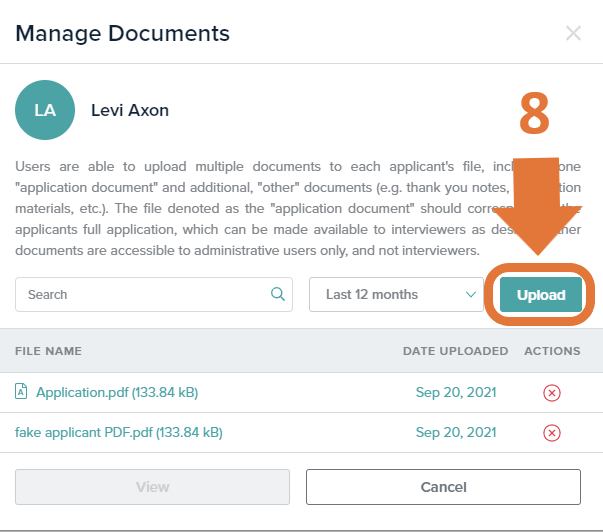 9) You will be prompted to confirm if this document is an "Application document".

The Application document will be accessible through the Applicants page directly without using the document manager, and will also be accessible through the MySchedule screen when a Program Interviewer is scheduled with an applicant. There can only be one Application Document loaded for each applicant.
Select yes to confirm this is an application document, or no if this is not an application document. Selecting yes will overwrite any existing application document you have previously uploaded.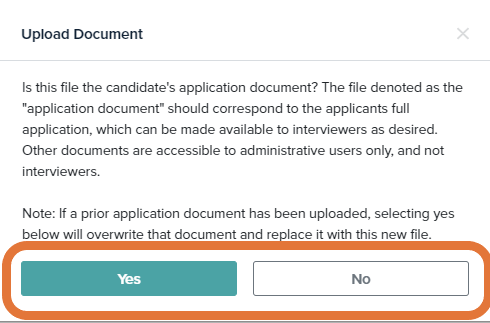 10) You will now be able to see your documents in the document manager.
You can search for documents, sort and filter by date uploaded, and delete any documents you no longer want to retain (by selecting the red x next to the document).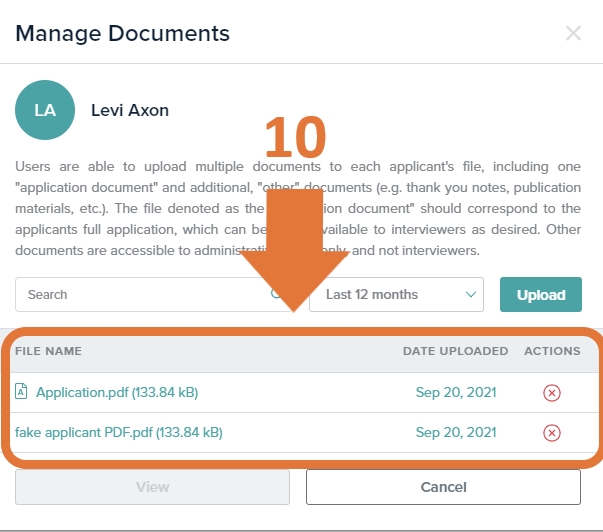 11) You can continue to add additional documents as needed through this screen. You can also access any previously uploaded documents through this screen.
Additional information about navigating your Applicant Dashboard and Importing information from ERAS can be found in our Applicants dashboard user guides