Thalamus has the ability to integrate your WebEx account into your virtual interview day.
In order to accomplish this, you will need to set up a third party API with your WebEx account and Thalamus.
You must have an existing paid WebEx account that can accommodate your interview day.
Account requirements:
The Webex account being used by the customer must be a paid account. That is, it must have access to the Webex Control Hub to manage the meetings.
Installation/Authorization Process:

Click Edit to enable

system configuration changes.

Select Webex and then click the Authorization,

Login, button.

The browser will be redirected to the Authorization page.

If the current user is not logged in to Webex, they will be required to log in.

The User will be prompted to accept or decline

the Application's Access to their account. Click Accept

The user will be returned to the Program Dashboard.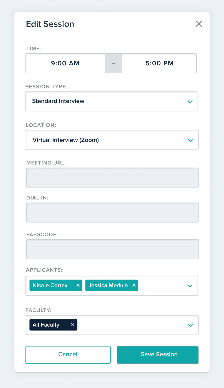 Usage of the Application/Creating a Meeting:
Manual Process
The user will create a meeting in their Webex Account and retrieve a meeting link.

Within Thalamus, the user will go to Interview -> Itinerary builder

Select an Event

Select a time slot for a displayed applicant or click +Create Session

In the Create session dialog, set location to Virtual Interview (Manual)

Copy and Paste the Meeting URL into the Meeting URL box

If there is a Password or Passcode, paste it into the Passcode box
Using the Virtual Interview (Webex) Location
The user will go to Interview -> Itinerary builder

Select an Event

Select a time slot for a displayed applicant or click +Create Session

In the Create session dialog, set location to Virtual Interview (Webex)

The Link for the meeting will automatically populated in the Meeting Url box

Any generated passwords will be displayed in the passcode box