Users can access Cortex via the same log in used for their Thalamus account. Primary Cortex users are set up by the Thalamus onboarding team during account creation.
Logging in via the Cortex Website
Login from cortexapp.thalamusgme.com

Enter your E-mail Address and Password.


Click "

Sign In

"

Should you have any issues accessing your account, please select the "Forgot your password?" link to retrieve your password. You will be prompted to enter your email address.  Follow the instructions in the email to change your password. 

  


To logout of Cortex (after logging in), click on your program name in the upper

right hand

corner ->

and select "logout."
If you have any trouble accessing your account, please contact our support team at customercare@thalamusgme.com.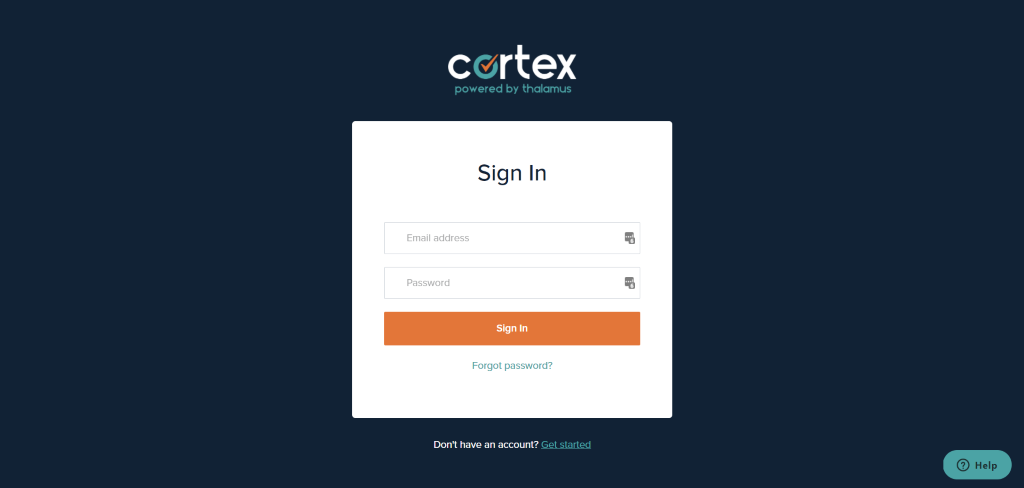 Logging into Cortex from your Thalamus Account
If you are affiliated with a Cortex or Cerebellum account, you can now access your accounts directly in Thalamus.

Select your "user profile" icon on the upper right-hand corner of the page.

From the drop-down menu, select the account you would like to view.

Uploading your applicants into your Cortex Account from ERAS
Your program will first need to create a bulk print file of your ERAS applications

.

Click "Browse" to locate the ERAS zip folder containing your ERAS application PDFs.
Select "Upload Files"
Cortex will begin processing applications, the status of which will be listed in the "Upload Status" box below. Status of each application will be listed in the "Status" column. Applications in various statuses can be filtered using the menu tabs at the upper-right-hand corner of the "Upload Status Box."
Once your applications are finished uploading,

the

will appear on our "Applications Page."
If you have any trouble uploading your PDF applications, please contact our support team at customercare@thalamusgme.com.
Viewing and Navigating Applicant Snapshot Information in Cortex:
Applicant information is viewed in the "Applications" tab in Cortex.

In the default view, each applicant will be listed in a "snapshot view" defined by a white box, with accompanying characteristic information listed. This information includes:

Candidate photo/initials

. Note: Photos will only display if included in your programs PDF export/upload from ERAS. If photos are screened by your institution, they will not display. Additionally, blinders may be used to hide candidate photos and/or initials.

Candidate Name

Medical School

AAMC ID

Hometown

Alpha Omega Alpha

Gold Humanism

USMLE Scores/COMLEX Scores (where applicable)

. Note a red "!" mark will be shown to denote any failures/retaking of exams.

Medical School Core Clerkship Grades

.

Note: Only core clerkships as defined by each medical school will be liste

d. Grades are listed as directly taken from the transcript. Note: If no grades are listed, "View Transcript" link, when click will take user directly to applicant transcript PDF for viewing.

Algorithm Score (if applicable)

Manual Score (if applicable)

Keyword count (if applicable)

Publication count

. Note: Scrolling your mouse over the count, will provide sub counts of each publication type.

1

st

Author Publications

. Note: Scrolling your mouse over the count, will provide sub counts of each

type of 1

st

author publication

.

Notes: Allows for viewing and creation of notes on candidate

à

see notes section (need link)

Timeline: Clicking view will list timeline view of candidate educational, research,

volunteer

and work experiences. Items may be filtered on/off by clicking on the corresponding check box next to each experience type.

Clicking "View PDF"

Interview statuses: Denoted by the icons under the photo/applicant initials.

(+) = invite to interview

(check mark) = application reviewed.

(pause sign) = on hold

(x) = reject
Note: These statuses denote applicant statuses. Those applicants that you will invite to interview, can be transferred into Thalamus However, interview invitations and data movement are not automatically triggered, and interview statuses may be changed at any time.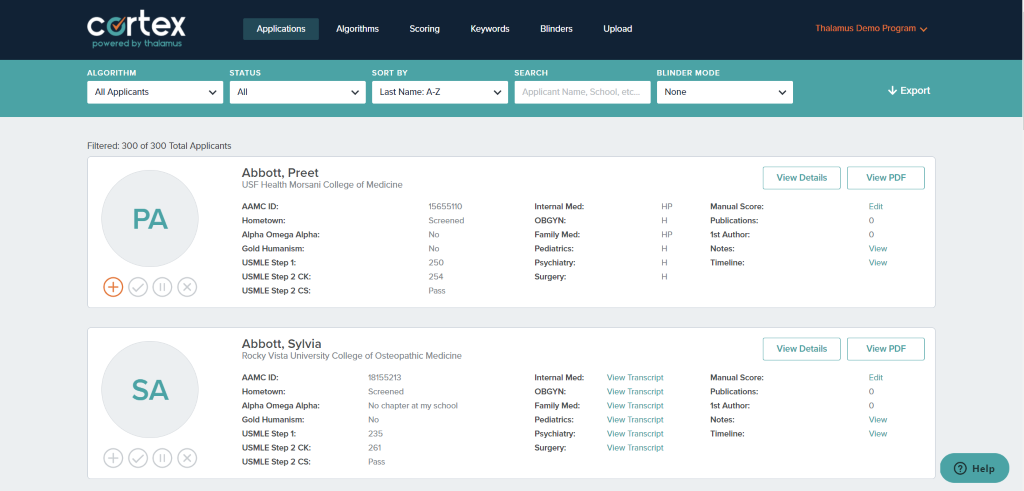 3. The filter and search bar in the teal area allows for easy navigation of the applicant list:
Algorithm

: Allows various created algorithms to be applied to filter/weight data.

S

ee algorithm scor

ing section

for algorithm creation

(need link)

Status

->

allows for filtering by interview status:

Invite

Reviewed

On-Hold

Reject

Sort by: Allows for sorting of list by various categories as listed by title.

Search: Allows for entering of search terms to filter list.

Blinder mode: Allows for blinding of various data on page.
NOTE: To clear any values, delete or return selector to default/All setting.
4. Export: Allows for export of data out of Thalamus.