Cortex allows you to review all of your applications. Programs have options on how they can order and filter their applications during the review process. Reviewing applications in Cortex programs can apply one algorithm to your list at a time. While also having multiple filters enabled. These settings allow programs to review their top priority applications in a streamlined automated way.
All the algorithms a program creates are available within the algorithm drop down. Need a new one review: Creating Algorithms in Cortex
Apply an Algorithm
Go to the Applications tab.
Click the drop down menu. It will contain all the algorithms that have been created in Cortex. Select the Algorithm you'd prefer.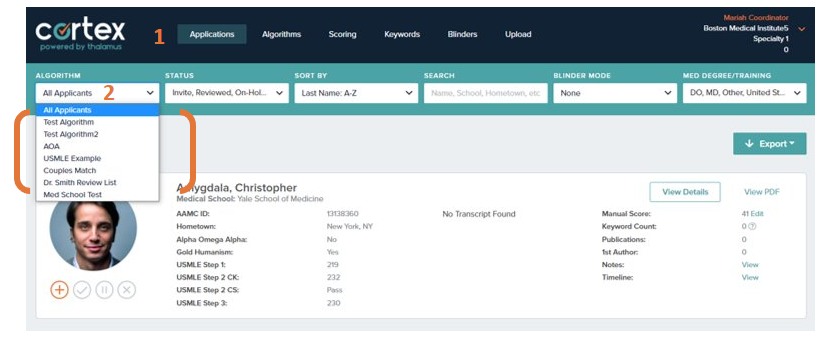 Applying Filters
When reviewing applications you can also filter applications by the following drop down menus.
Status
Med Degree/Training
Use a combination of status or med degree/trainings to get that ideal list. You can do this by clicking the drop down menu and selecting or deselecting attribute boxes.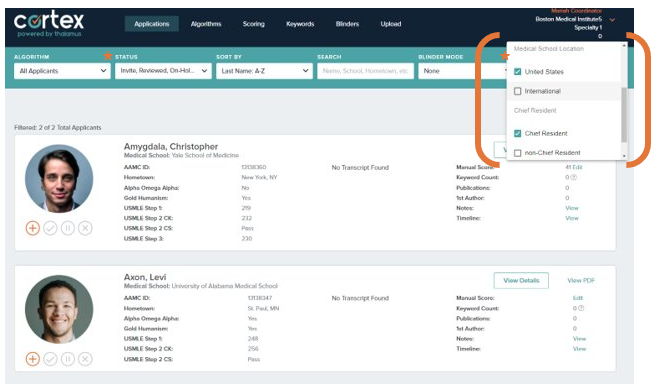 Note: Boxes that are teal are selected, and those that are gray/blank are not viewable in the filtered list you're creating.
Once you've applied the algorithm and filters that you desire you can also sort by the following information. This will just reorder your filtered list.
Ordering Applicants Using the Sort By Field
Click the drop down and choose whatever attribute that you'd like the list ordered by. This will reorder your applications based on that attribute.