The Thalamus Virtual Interview platform can be tested with your Faculty/ Interviewers prior to your Program's interview dates.

NOTE: DO NOT create and/or invite test/fake applicants into Thalamus. They are not needed to test the system and will not function appropriately.
1. Add the Program Users that will be testing the platform through the "Administration" page. Visit our Managing Program User Accounts guide for more information.
2. Create an event in the "Calendar" page. Ensure that the event is on a day in the future that can easily be distinguished from your regular interview days. You can reuse this event date for multiple groups of faculty, as long as the date is not in the past. Visit our Creating Interview Dates guide for more information.
3. Add the event title "Virtual Interview Test".
4. Toggle on the "Private/ Hidden Event" switch. This will allow only users who have been scheduled for this event to see it on your calendar.
5. Select "Save" to save your event. "Cancel" to cancel your changes.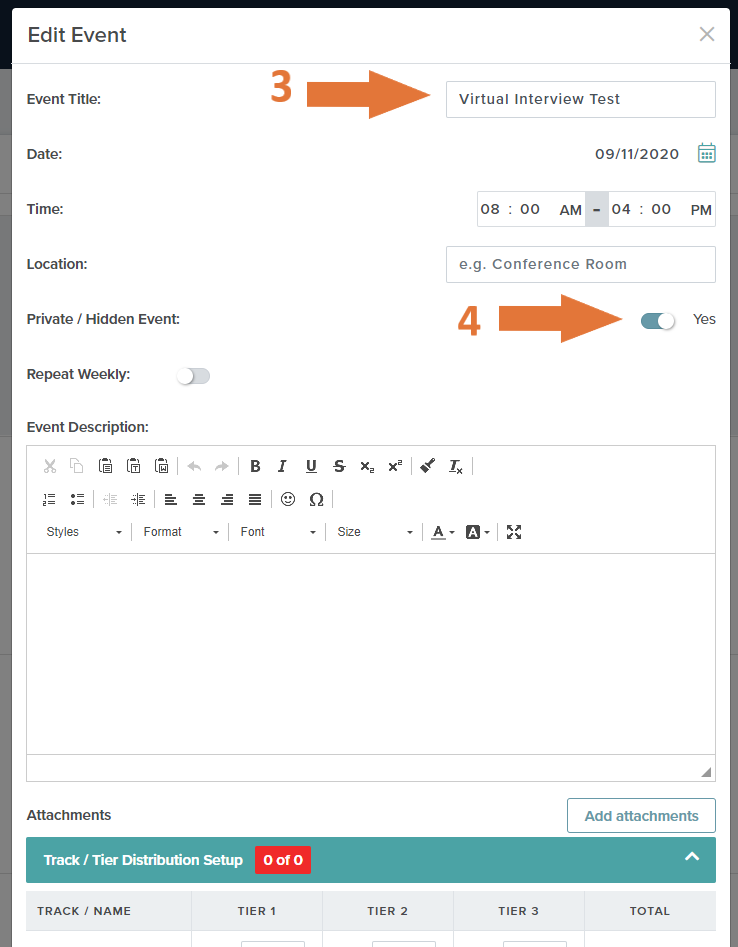 6. Through the "Itinerary Builder" page, under "Interviews", locate the date of your Virtual Interview Test event. Visit our Building Applicant Itineraries and Event Sessions guide for more information.
7. Create a new session following the instructions for creating Event sessions. For Location, choose "Virtual Interview (Thalamus)". Under Faculty, choose the Faculty you'd like to invite to this test session. Do not invite any applicants.
Note: Do not invite any test applicants. They are not needed to test the system.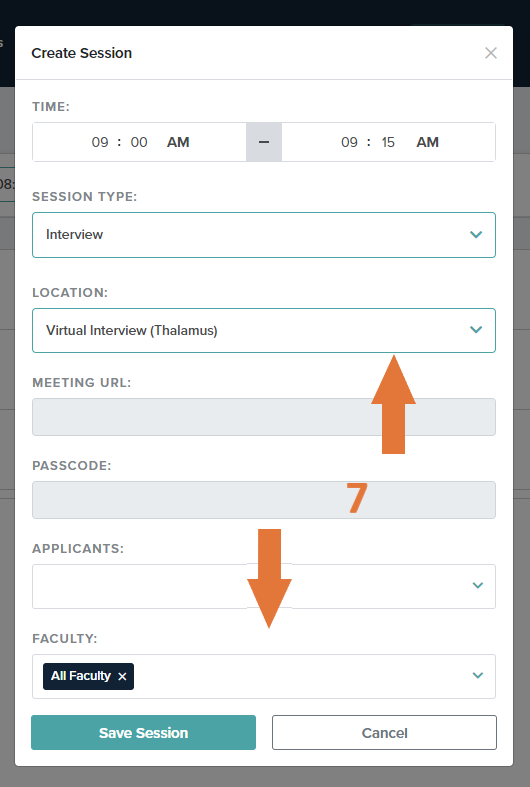 8. Select "Save Session" to create this session.
9. The Faculty/ Interviewers you have invited should now be able to log into Thalamus, and access this virtual interview session.
Additional guides for faculty can be found here:
Faculty Instructions: Virtual Interviews

Additional guides for applicants can be found here:
Applicant Instructions: Virtual Interviews
Testing the Video platform prior to your interview day