The Thalamus web app is the core feature for managing you interview schedule within Thalamus. It is available for download on Apple Store and Google Play.

Note: When using the Thalamus Mobile app, please be sure that you have downloaded the most recent version before accessing your account.
View our additional mobile guides here: How to Schedule an Interview with a Program for Applicants (Mobile App) and Using the Mobile App for your Virtual Interview for Interviewers and Applicants

Login
Login to the app by typing in your email and password associated with your Thalamus account. Select the "Sign In" button.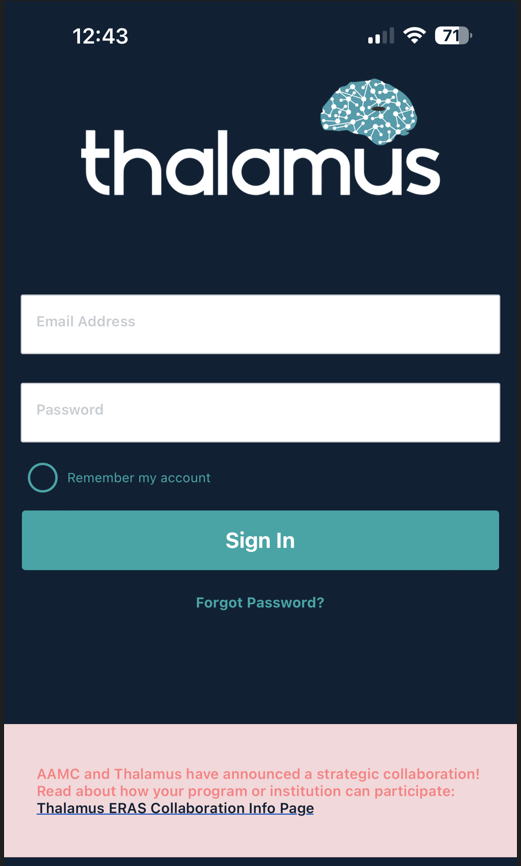 There are six sections to view in the menu button. Select the menu by clicking the three bars at the top to access the different sections:

Calendar allows you to view all invites, scheduled, pending and waitlisted
Profile will allow users to edit your profile information and upload a profile photo
Settings allows you to enable biometrics for login (fingerprint or face recognition)
Video Conference allows you to access your itineraries and interviews on their scheduled date
Help navigates you to view user guide articles or send a message to contact us
Sign Out allows you to sign out of the app
Thalamus Mobile Version allows you to view what version of the app you are currently accessing.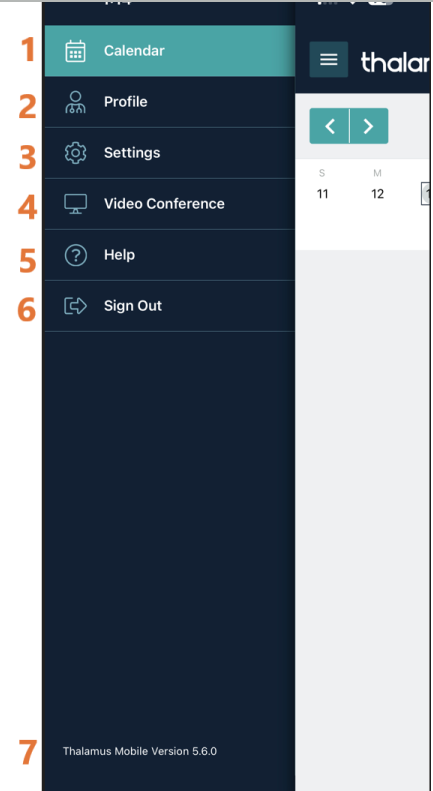 Calendar
Upon navigating to the calendar tab, you have the ability to toggle your view between List View or Calendar View.
List View
Choose the "Calendar Icon" to display in calendar view
See where sessions are offered by the colored dates below each date
Select the date you would like to view in detail
Program sessions scheduled for that day automatically filter to the top of the list
If you wish to return to the current date, select "Today" button located in the right-hand corner at towards the bottom.

-OR-
Calendar View
Choose the "List Icon" to display in list view
Dates are provided in list format chronologically by date
In the calendar view, there will be four tabs located at the bottom that can be toggled through for different lists. Click on each "tab" to view each list:

All will list all interview spots offered by any programs that you were invited to (this will include calendar invites that are also full)
Scheduled will list all currently scheduled interview events
Pending will list all interview spots offered by any program you were invited to that only have available spots to sign up for
Waitlisted will show any events that you are currently waitlisted for
Social will show all social events you have been scheduled for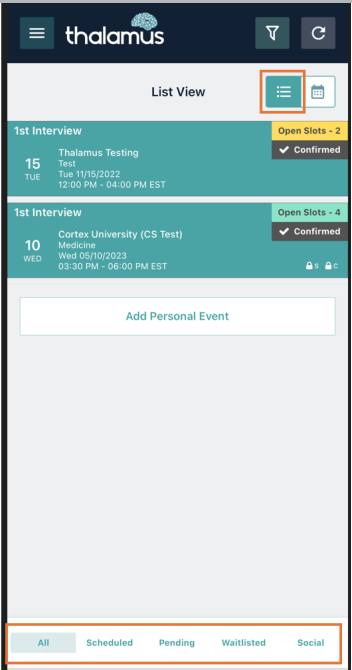 Select which programs you want to see in each tab by following the below steps:
Click the filter button on the top bar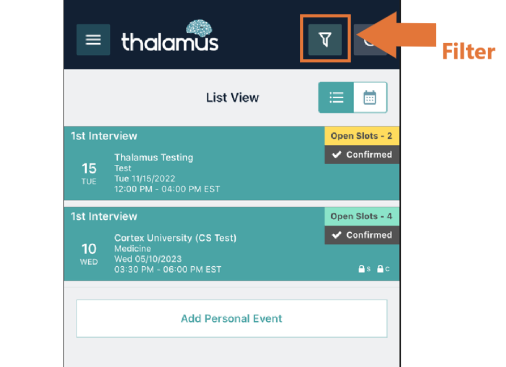 2. Choose which program/s you want viewable or not viewable by toggling the button in front of the program name.
NOTE: This view will also show you which color is designated to each program


Profile
From the menu button, select Profile. Select one of two options:
Change Password allows you to change your password to log in to Thalamus
Edit Profile will allow you to The profile view will allow you to view and make the following changes to your profile:

Upload Profile Photo
Home Airport
First and Last Name (required)
Email (required)
Address
Specialty
Medical School
Medical Degree
Make changes and click "Update Profile" at the bottom once complete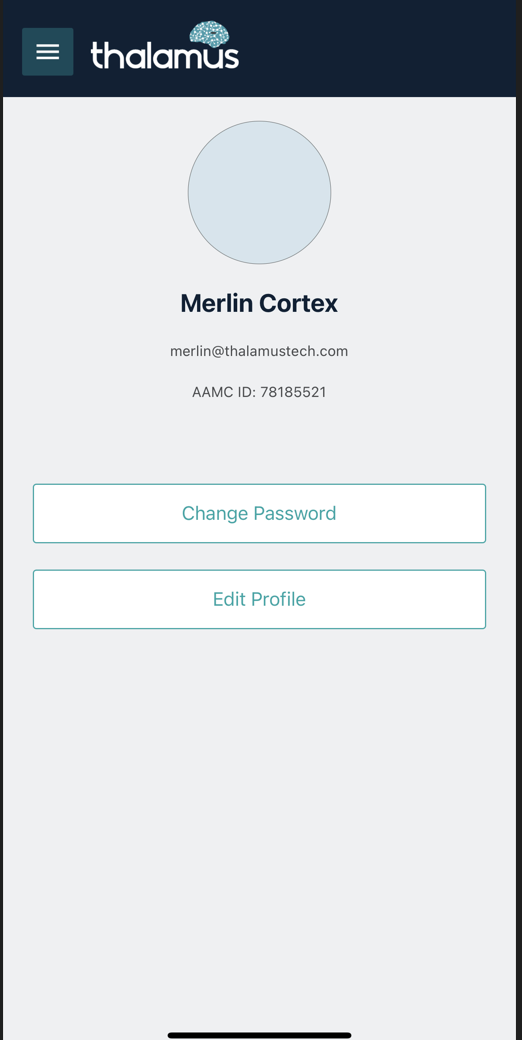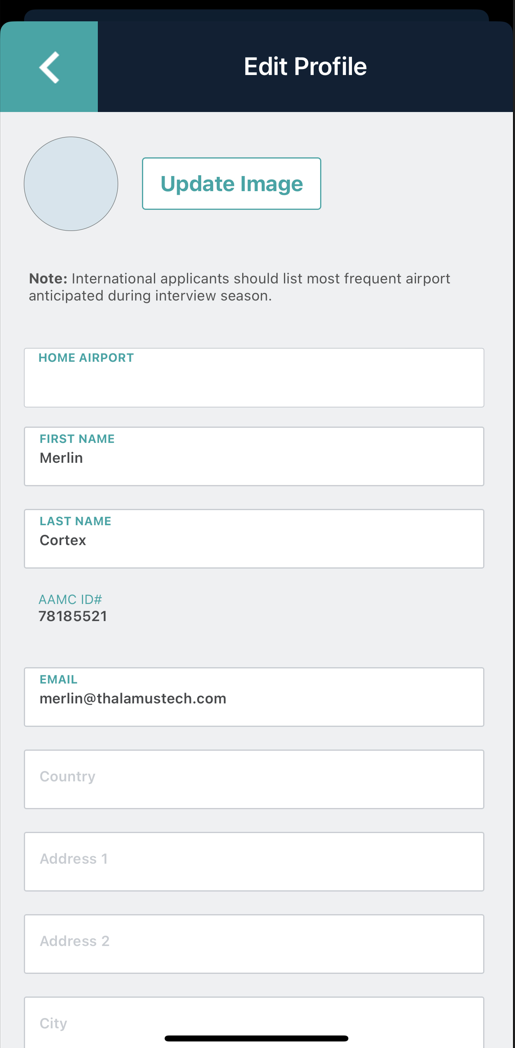 Settings
From the menu button, select "Settings"
Click on "Use Biometrics" to set up fingerprint or facial recognition.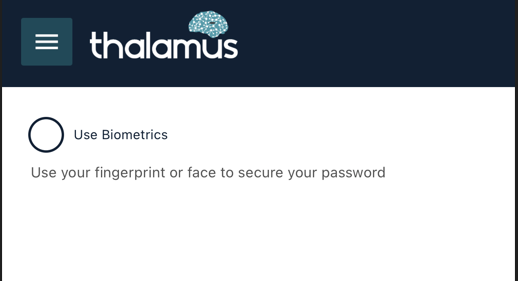 Help
From the menu button, select "Help"
View User Guides to help navigate through the interview process
Contact Us at customercare@thalamusgme.com for any questions or inquiries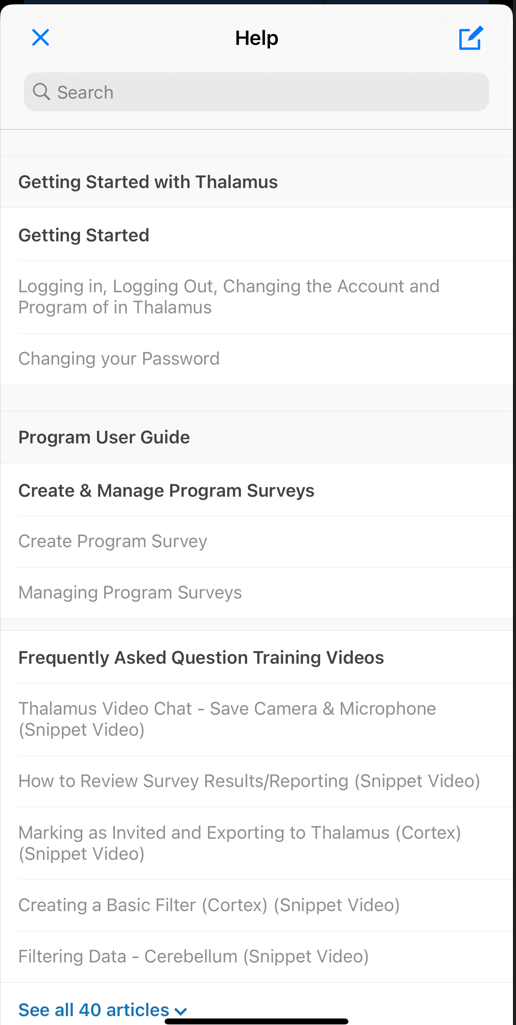 Sign Out
To sign out of the mobile app, select "Sign Out" from the menu screen.