Archive mode allows users to view and export previous recruitment season data via the Thalamus program page.
Archive mode is available only to the following user roles:
Program Director
Program Coordinator
Program Administrator
1) To Access Archive mode, select the Program tab on the toolbar at the top of your Thalamus page.
2) In the upper right hand corner of your Program Page, there is a drop down box populated with the name of your current season.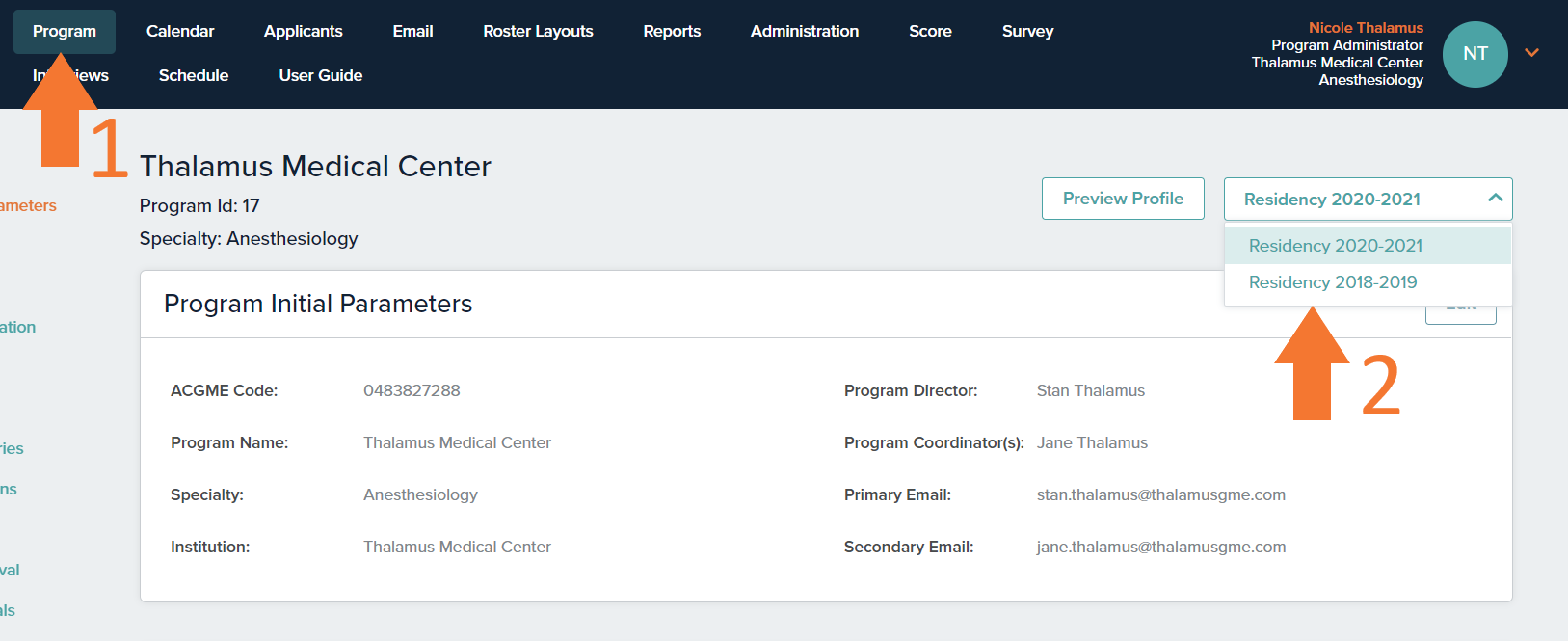 3) From the drop down box, choose the season you'd like to view. The names of your seasons are created by the Thalamus Customer Care Team and cannot be changed.
4) Once you select the season, a module will open confirming that you are entering into archive mode and that your data will be read only while in archive mode.
5) Select confirm to enter archive mode.
Once you are in archive mode and viewing a previous season, there will be a banner at the top of the page indicating that you are viewing archived data. This banner includes a link to return to your current season.
6) The drop down box in the upper right corner will now display the season you are viewing. At any point, you can move to another season by choosing a new period from the drop down box.
7) While in archive mode, the previous season data will be in read only mode.
Certain Thalamus features will be disabled:
Email tab
Administration tab
Scoring Algorithms
Itinerary Wizard
Video chat
Masterview
Attachments. Attachments in Thalamus persist across seasons, so the attachments displayed with remain the same when you move through Archive mode.
These features are disabled as they do not collect or display historical data. You can view previously used email template in your current season in Thalamus.
8) The following actions are available for use in archive mode:
9) Return to your current season by selecting the "Return to Current Season" link in the Yellow banner at the top of the page, or Selecting "Exit Archive Mode" in the same banner.