Thalamus allows you to create a custom profile for your Program. This profile is only visible to applicants after you have invited them to interview.
Only Program Directors, Program Coordinators, and Program Administrators are able to update the Program Profile. Visit our Managing Program User Accounts guide for more information.
Visit our Wait List Setup and Setting your "Lockout" Date guides for instructions for Wait List and Lockout dates.
Program Initial Parameters
1. Upon login, you are brought to the "Program" page manager. To access this page at any time, select the "Program" tab in the upper menu bar.
2. Begin with "Program Initial Parameters." Some of this information has been pre-populated by Thalamus support staff. To add/edit this information, click the "Edit".
3. The fields will become editable allowing you to customize your profile as desired.
Tracks Managers
4. The Thalamus scheduling algorithm is equipped with a special preference field called "Tracks." The system defines a track by allowing you to reserve spots for a particular category of applicants. This includes official NRMP tracks as well as non-NRMP tracks. This is the first step in defining the "Tracks" that your program would prefer.
For each track, the following should be included:
Track name:

NRMP tracks, we recommend using the official name (e.g. "Categorical"),

For non-N

RMP tracks, you may use any preferred

label (e.g. "Rotated in Dept.")

NRMP #:

For official NRMP tracks, enter the NRMP#,

For non-NRMP tracks, delete the field/leave this field blank.
If you are entering a non-NRMP track, please move the "non-NRMP" with a value of "Yes." This defines the track as non-NRMP within the Thalamus system.

Available positions (both inside match and outside match).
For NRMP tracks, enter the number of positions in each of the respective categories.
5. To Edit Tracks, click on the "Edit" button in the Tracks module.
6. To delete a track, select the "X" at the far right of that track's corresponding row.
7. To add tracks, select "Add New Track" and an additional row will appear.

NOTE: NRMP tracks and their accompanying information will appear on your Program Profile as they are informative to applicants. Non-NRMP tracks will be hidden from the Program Profile. Applicants will not know which track(s) they are in regardless of track type.
8. To save the data, select "Save." To undo or cancel these changes, select "cancel"
Program Images
9. To upload "Program Images" select "EDIT." Select "Browse" under either "Program Logo" or "Program Background" choose the desired image file and click "Open." To remove the current image without replacing it, select "Remove". Select "SAVE" to save changes. To undo or cancel these changes select "Cancel"
Program Leadership
10. The "Program Leadership" section of your program profile is not connected to the "Administration" page. This list is separate and no longer connected to program user accounts to allow for added flexibility. How individuals are listed on the profile has no effect on their user accounts and security roles.
This section allows you to list Program Directors, Department Chair, Associate Program Directors, Chief Residents and Program Coordinators. This information will be visible to any candidate you have invited to interview.
11. To Edit your "Program Leadership", click the "Edit" button.
12. To Add program members, click the "+" next to the type of member to add. Enter the name of the member. You can add a photo by clicking on the blue circle next to the person's name.
13. To reorder your program member list, click the blue arrow next to the person's name, and drag them to the appropriate spot.
14. To remove the member, click the red "X" next to their name.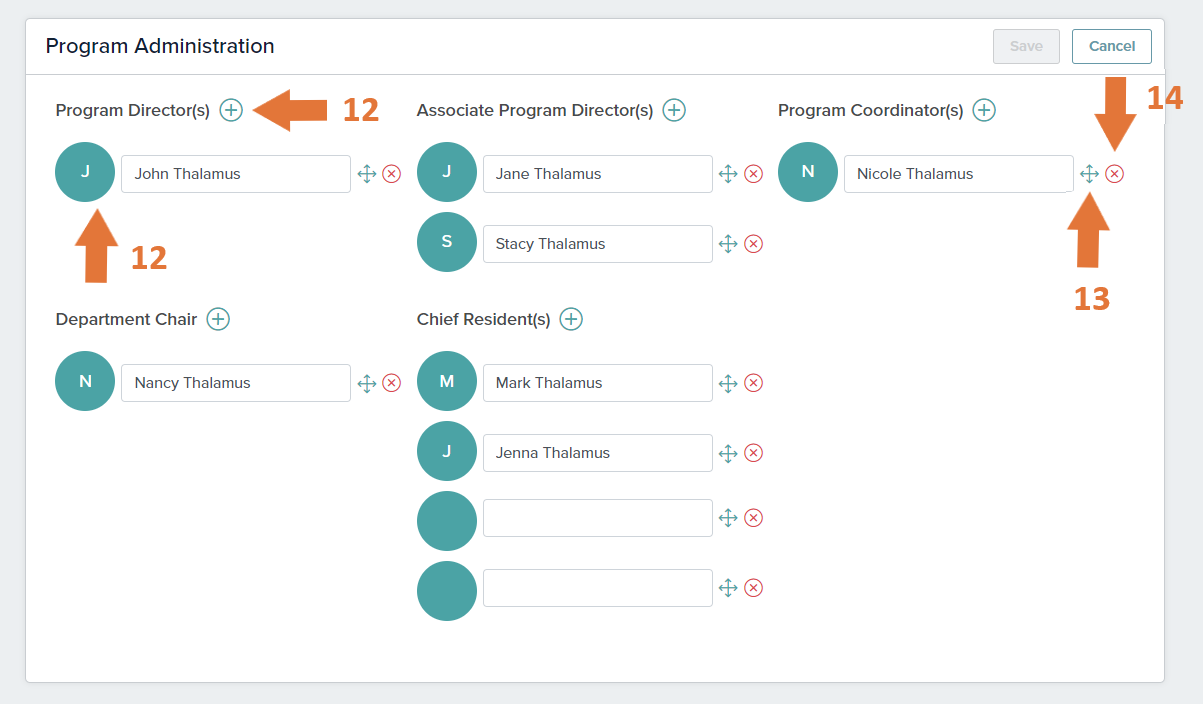 15. To save changes, select "Save". To cancel changes, select "Cancel"
About Program
16. In the "About Program" box, select "Edit" to enter a description of your program. Text may be formatted using the formatting toolbar. For more information on this section, visit our Customizing the About Program section guide.
Programs have the capability to embed a video onto their main Program Profile page. You must have access to the video embed code in order to complete this task. We suggest that the video is uploaded to one of these two programs, YouTube Video or Vimeo.
For more information on this section, visit our Embedding a Video on the Program Profile Page – ThalamusGME guide.
17. You may upload documents using the "Add Attachments" button. Select "SAVE" to save changes. To undo or cancel these changes select "cancel."
Social Links
18. There are five (5) social media websites that can be linked to the Program Profile page. Programs have the option to link as many as they'd like. The five websites are:
Facebook
Twitter
Instagram
LinkedIn
YouTube
For more information on this section, visit our Adding Social Media Links on Program Profile Page – ThalamusGME
Program Year Salaries
19. "Program Year Salaries" may be entered from PGY1-PGY7 by selecting "Edit". Salaries should be entered in whole numbers and the system will format them correctly. Select "SAVE" to save changes. To undo or cancel these changes select "cancel."
Contact & Locations
20. Select "Edit" in "Contact & Locations" to enter important contact information for your program. You may include a link to your program website.
21. Update "Home Airport" into the field and choose from the list provided. This will activate the travel coordination features for applicants. This field is required. If there are multiple airports that service your program, please select the closest or most preferred one.
Virtual Interviews
To set the default Virtual Meeting option to Thalamus Video, Zoom, Webex, or Teams, navigate to the Program Page to select and activate any integrated 3rd party video software.
If you are integrating with Zoom, Webex, or Teams please view the Integrating Video Apps section
Select the default Video Software:
Other Settings
22. In the "Other Settings" section, Thalamus is equipped with a Google Map of the local area, a 5-day weather forecast and Taxi Farefinder (estimates cab fare from airport to program) widgets. These widgets may be turned on/off using the toggle switches provided. You can also Enable program notifications. Select "Edit" to toggle any of these settings on and off.
23. After information has been entered, you can preview the "applicant's view" by selecting "Preview Program" at the upper right-hand corner of the page.