Thalamus has two Program Administration Sections:
Administration: a list of Program users that have Thalamus Accounts and have access to your program in Thalamus.

Program Administration list in Program Profile:

a list of Program Staff that will display on your Program Profile. This list is separate and no longer connected to program user accounts to allow for added flexibility. How individuals are listed on the profile has no effect on their user accounts and security roles.
Visit our Creating/Editing your Program Profile guide for instructions on adding Program Staff to your Program Profile.
1. To create/edit accounts, select the "Administration" tab in the upper menu bar.
2. The table may be sorted in ascending/descending order by clicking on the title of any of the columns. The table may also be searched by typing values into the search bar. Different pages of the table may be viewed by clicking on the page numbers at the bottom left.
3. To add a new account, click the "+ Add User" button in the upper right-hand corner.
4. The "Add Program User" module will appear.
5. Enter the email address of the user you would like to add. Select "SEARCH." NOTE: If you are creating a user that is a Fellow or Resident, we recommend confirming if that person is using Thalamus for interviews in other Fellowship or Residency programs. Using an email address that already exists for an Applicant profile in Thalamus will cause this person errors when logging in. You should add them as a program user with a DIFFERENT email than they are using for their Applications.
6. For both instances above, the "Create User" module will appear. If the user already exists, their information will be populated into the "Create User" module.
7. To insert a photo (optional), select "Update Image" and browse for the desired picture file. Select the picture and select "Open." This will then serve as the profile photo for that user. When the user logs into their own account they will also have the option of selecting/editing their profile photo.
8. Update the user's First and Last Name (required). Phone and Degree information is optional.
9. RECOMMENDED: The Invitation Email toggle will send an email invitation to the user, allowing them to set their own password. Toggle the switch in the "SEND INVITATION" (it will turn blue). Upon creating this account, this user will receive an email invitation from Thalamus to finalize their account details and create their own password.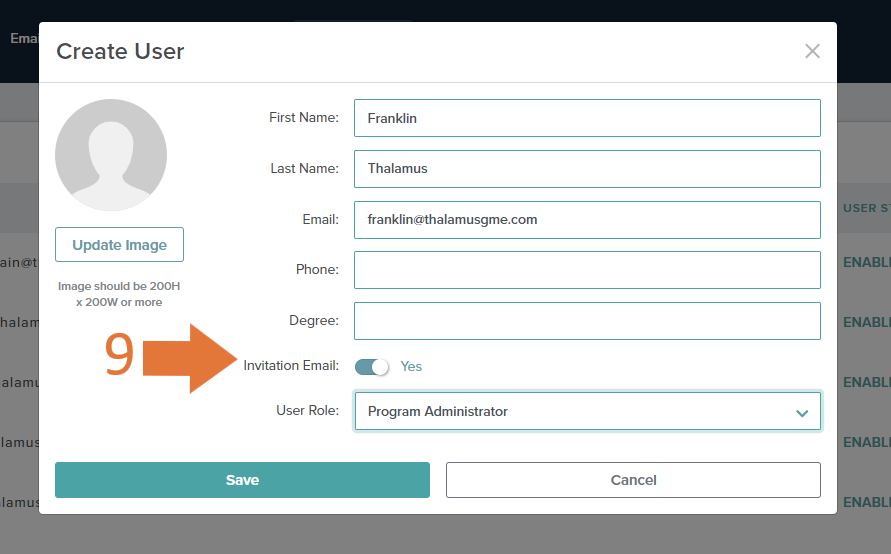 10. NOT RECOMMENDED: If you choose to assign the user their own password, select the "+" button to create a password. Select the "x" button to remove the password. The password must meeting the following minimum criteria:
6 characters
1 upper and 1 lower case letter
1 number or symbol
NOTE: You will need to provide this password to the user directly. They will not receive a notification from Thalamus if you choose this option.
11. In the "USER ROLE" field, select the "+" button to choose at least one user role. User roles are assigned particular permissions:
Program Director: Full permissions, listed on Program Profile.
Program Coordinator: Full permissions, listed on Program Profile.
Program Administrator: Full permissions
Program Interviewer: Limited permissions
Program Resident: Limited permissions
Program Fellow: Limited permissions
12. Once all details are finalized, select "SAVE" to create user account. Should you wish to cancel this process at any time, either click outside of the box or select the "CANCEL" button.
13. New user accounts will be added to the program administration table and the account will be active.
14. To edit an account, click on the pencil icon under "Actions" and the "Edit User" module will appear. Repeat the process described above to make desired changes to the account and save as needed.
15. Through the "Edit User" module, you can make additional changes:
Toggle on/off Daily Email Updates from Thalamus for this user
Remove user from accessing the program through Thalamus.